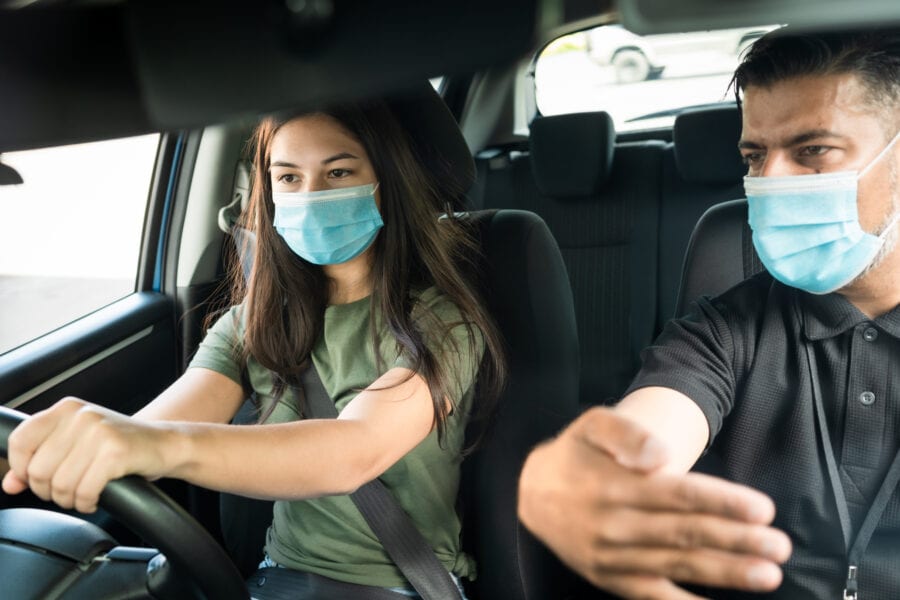 Northern Ireland reports 86% increase in learners despite LOCKDOWN
As bookings go online and driving lessons and tests return in great demand this week, new figures show an 86% year-on-year increase in demand for learner car insurance in Northern Ireland – despite the pandemic.
The top hotspots with the most learners in 2020 were Armagh City, Banbridge and Craigavon, followed by Mid and East Antrim and Newry, Mourne and Down.
The top three areas with the biggest year-on-year increase, at over 100%, were Mid and East Antrim and Causeway Coast and Glens – both with a 110% increase in learners, followed by Ards and North Down at 107%.
Interestingly, the overall UK figure showed a third of learners were over 30 years old, with Northern Ireland below the national average at 25% over 30 in 2019, falling to just 17% in 2020.
The data, from CompareNI.com, also reveals that many motorists spend longer as learner drivers than might be expected, with almost a third (32.2%) holding a provisional licence for more than a decade.
The research also shows demand for learner premiums has rocketed 42% from 2019 to 2020, although the average age was still firmly rooted in the mid-20s.  The data was sourced from 2019 and 2020 records covering a sample of 50,000 provisional drivers across the UK.
Greg Wilson, CompareNI.com's Founder, comments: "It's great to see some normality return this week with learners keen to book in their test and get out on the road as soon as possible.  It's unusual to see such a spike in demand for learner car insurance considering lessons and testing have been on hold for the most part of 2020, but perhaps family members have had more time at home on furlough or working from home to do the teaching themselves.
"It is likely Northern Ireland has a higher percentage of younger drivers compared to the overall UK average as our public transport links aren't quite as extensive, and a lot of young people here leave the country for university, so many may be keen to get their full licence before they go.
"Some learners can find it difficult to get insurance and when they do it can be expensive as insurers deem their lack of experience as high risk, but there are lots of things learners can do nowadays to help them get a competitive price, such as choosing telematics insurance which monitors their driving, choosing a car with a smaller engine size and shopping around for the best deals by using a price comparison site such as ours."
Join Granite Breakdown cover today. We offer one level of cover so we have you covered for any situation that arises across Northern Ireland and the Republic of Ireland. 
See tables below of Learner statistics across Northern Ireland.
| | | |
| --- | --- | --- |
|   | NI Learner Hotspots (per council area) | 2020 Learners |
| 1 | Armagh City, Banbridge and Craigavon | 1003 |
| 2 | Mid and East Antrim | 880 |
| 3 | Newry, Mourne and Down | 853 |
| 4 | Derry City and Strabane | 777 |
| 5 | Ards & North Down | 757 |
| 6 | Antrim and Newtownabbey | 751 |
| 7 | Causeway Coast and Glens | 729 |
| 8 | Mid Ulster | 700 |
| 9 | Fermanagh and Omagh | 643 |
| 10 | Belfast | 630 |
| 11 | Lisburn & Castlereagh | 332 |
| | | | |
| --- | --- | --- | --- |
| YEAR | NI Learners | 30 & Over | % 30 & Over |
| 2019 | 4358 | 1090 | 25% |
| 2020 | 8115 | 1420 | 17% |
*86% year of year increase in learners in NI. Overall UK records: 50,000 Sample
| | | | |
| --- | --- | --- | --- |
| NI District Council Area | 2019 Learners | 2020 Learners | % Increase |
| Mid and East Antrim | 420 | 880 | 110% |
| Causeway Coast and Glens | 347 | 729 | 110% |
| Ards & North Down | 365 | 757 | 107% |
| Armagh City, Banbridge and Craigavon | 503 | 1003 | 99% |
| Newry, Mourne and Down | 439 | 853 | 94% |
| Lisburn & Castlereagh | 172 | 332 | 93% |
| Antrim and Newtownabbey | 393 | 751 | 91% |
| Derry City and Strabane | 408 | 777 | 90% |
| Belfast | 380 | 630 | 66% |
| Mid Ulster | 431 | 700 | 62% |
| Fermanagh and Omagh | 447 | 643 | 44% |
| | |
| --- | --- |
| Provisional licences been held | Percentage |
| More than 5 years (2015) | 12.5% |
| More than 10 years (2010) | 23.8% |
| 20 years plus (2000) | 8.4% |
(Artice written by SEOPA -Compare NI)