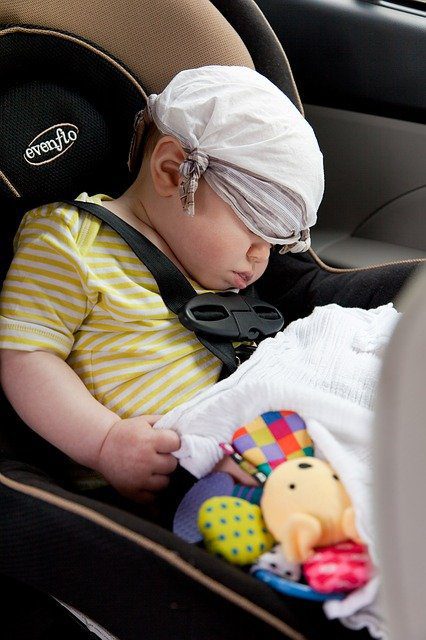 Child car seats, restraints and seat belts
UK Law requires children to wear and have additional safety restraints when travelling in a vehicle.
Children are much more vulnerable than adults in a car so taking time to make sure you use the right child seat (restraint) or booster correctly, could save your child's life.
By law, a driver must make sure that any child under 14 years old uses a seat belt or the right child restraint.
All children up to 135cm (4ft 5in) in height, or up to 12 years of age (whichever occurs first), must use a suitable child restraint – according to their height and weight.
There is a fixed penalty fine of £60 and three penalty points in Northern Ireland for not using the right child restraint. If the case goes to court, this could increase to a maximum fine of £500 for any occupant in the car.
Here are the Northern Ireland laws according to your child's age and height to help you keep your child safe in the car.
From birth to three years of age:
All children under three years of age must use a suitable child restraint.
The one exception when a child under three may travel unrestrained is in the rear of a taxi or a minibus if the right child restraint isn't available.
​Note: Rear-facing baby seats must not be used in a seat protected by a front airbag unless the airbag has been deactivated.
From three to twelve years old:
In vehicles where seat belts are fitted, children from three years to 12 years and up to 135cm (4ft 5in) in height must use the right child restraint.
The three exceptions to children travelling in the rear of the vehicle with the use of an adult seat belt:
In a taxi, if the right child restraint is not available.
For a short distance, in an unexpected necessity – if the right child restraint is not available.
Where two occupied child restraints in the rear prevent the fitting of a third child seat and no suitable child restraint is available for use in the front passenger seat.
There is also an exception for children with a medical certificate saying that it is not advisable on medical grounds to wear a seat belt.
Choosing the right car seat:
To find out more about what car seat is appropriate for your child, visit the NIdirect.gov.uk website for full specifications.
You might also find the ROSPA site useful for more information on understanding and choosing the right child car seats.
All the information above was sourced from NIdirect.gov.uk
---
Did you know Granite Breakdown offer vehicle breakdown across NI & ROI as standard?
Find out more about what's included in our service and join over 20,000 happy members today!