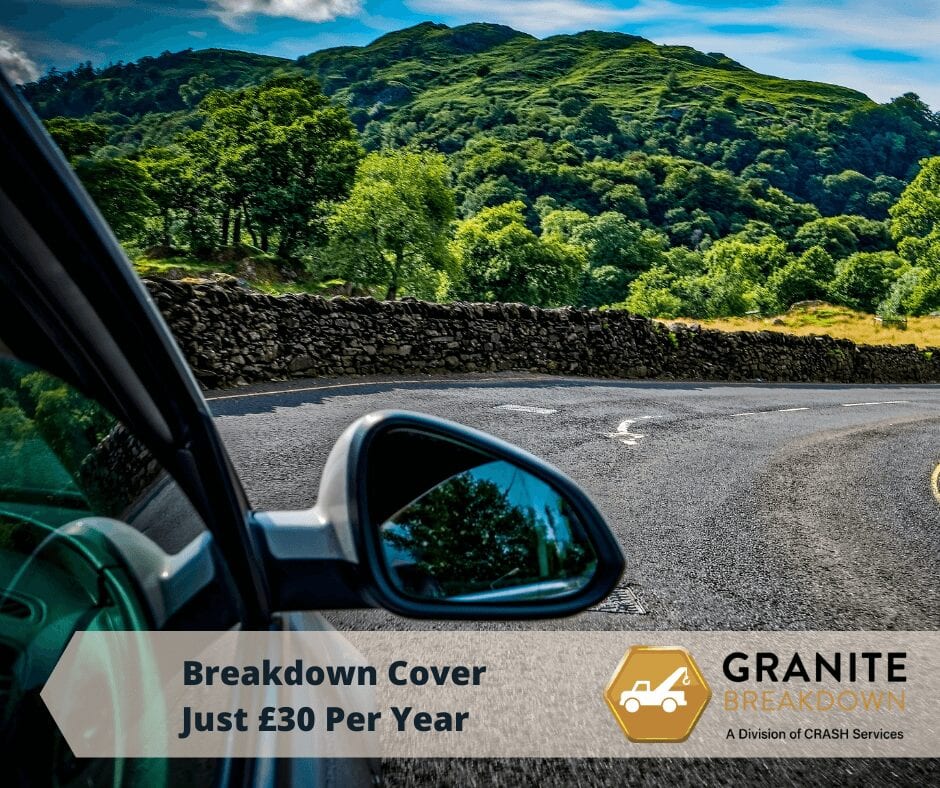 Buying breakdown can be confusing for some as all breakdown providers offer a different level of cover and all at different prices. This isn't true at Granite Breakdown, we believe every customer should receive the same level of cover and all for the same price because you never really know what kind of breakdown will occur in the future.
Granite Breakdown is a trusted Northen Ireland breakdown provider that offers one level of cover for your vehicle across Northern Ireland and the Republic of Ireland.
Here are some frequently asked questions answered:
What's included in breakdown cover?
At Granite Breakdown, we offer one level of service.
NI & ROI Coverage
Home Start & Roadside Assistance
Mechanical & Electrical faults
Flat Tyres, Lost Keys and Fuel Shortages
Additional Benefit – GB Breakdown Cover
See how we compare against leading competitors and check out our testimonials from customers who've used our breakdown cover before.
Does breakdown cover take you home?
Granite Breakdown will recover your vehicle anywhere across Northern Ireland and the Republic of Ireland. This means we will recover you anywhere in the country! If you live in Derry/Londonderry and broke down in Cork, we will come to get you and bring you home!
We have a trusted network of recovery operators across the country who are on stand by, for when you need to be recovered!
What happens if I breakdown in Great Britain?
Bringing the car over to the UK mainland on the ferry? Have a breakdown? No need to worry. If your vehicle suffers a breakdown incident or if you are involved in a road traffic collision that renders your vehicle immobile whilst travelling in Great Britain, Granite Breakdown will refund to you any recovery costs that you incur subject to a maximum payment of £350 (incl. VAT). We will not recover your vehicle from the scene. This benefit is inoperative if you have also have cover from an insurer or another breakdown organisation.
Can you get breakdown cover and use it straight away?
At Granite Breakdown our breakdown cover starts 24-hours after purchase but if you are currently not a member you can still call our 24-hour emergency breakdown number and we will come to get you for a fee.
Call our 24-hour helpline on 028 90 029457
What if I put the wrong fuel in my car or run out of fuel?
Putting the wrong fuel in a car isn't that uncommon; in fact, at Granite Breakdown it's one of the most common reasons we're called out to rescue Northern Ireland motorists.
If you run out of fuel, we'll take you and your vehicle to the nearest petrol station.
What if I lock my keys in my car?
If your keys are lost,  we will send a representative to assess the vehicle recovery requirements and, where specialist equipment is required, take your vehicle to the nearest secure area until a replacement is found. If your keys are locked in the vehicle, we can help to access the vehicle.
What if I get a flat tyre?
Granite Breakdown will call out and change your wheel if you're carrying a suitable spare. If you do not have a spare, we will get you to your nearest garage to get a replacement.
How do I join Granite Breakdown?
You can join our breakdown service today by visiting our purchase page or calling 028 90 029457
Breakdown Cover includes 3 callouts per year!